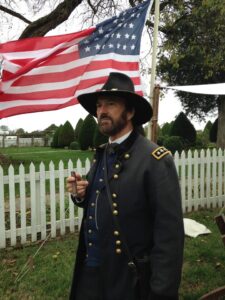 General Grant is pleased to announce that he has been asked to return to the Mason, Ohio, Patriot Fair/Heritage Festival on September 17th, and to participate as a speaker in the main Hall of the Municipal Campus.  The General will once again represent the Ulysses S. Grant Boyhood Home and Homestead at the Patriot Fair.
The event is free and will have representatives from all periods of American History and Heritage.  For more information, the General suggests that one contact the organization at: americanspiriteducationalalliance.com/event/patriot-fair-2016/
The General hopes to see all who may be able to attend and to talk with them about his role in the War and his Boyhood Home in Georgetown, Ohio.